The 22nd International Conference on Computational Science and Its Applications
The 22nd International Conference on Computational Science and Its Applications (ICCSA 2022) has been held on July 4 - 7, 2022 in collaboration with the University of Malaga, Spain.

ICCSA 2022 has been an event in a series of highly successful International Conferences on Computational Science and Its Applications (ICCSA), previously held in Cagliari, Italy (2021), Online (2020), in Saint Petersburg, Russia (2019), Melbourne, Australia (2018), Trieste, Italy (2017), Beijing. China (2016), Banff, Canada (2015), Guimaraes, Portugal (2014), Ho Chi Minh City, Vietnam (2013), Salvador de Bahia, Brazil (2012), Santander, Spain (2011), Fukuoka, Japan (2010), Suwon, Korea (2009), Perugia, Italy (2008), Kuala Lumpur, Malaysia (2007), Glasgow, UK (2006), Singapore (2005), Assisi, Italy (2004), Montreal, Canada (2003), and (as ICCS) in Amsterdam, The Netherlands  (2002) and San Francisco, USA (2001). The first ICCSA conference was co-organized by C.J.K. Tan (UK) and M. Gavrilova (U of Calgary, Canada) in 2003.  
Computational Science is a main pillar of most present research, industrial and commercial activities and plays a unique role in exploiting innovative Information and Communication Technologies.
The ICCSA Conference offers an opportunity to discuss new issues, tackle complex problems and find advanced solutions to enable shaping new trends in Computational Science.
Submitted papers has been subject to stringent peer review by at least three experts and carefully evaluated based on originality, significance, technical soundness, and clarity of exposition.
All accepted papers has been included in the Springer Lecture Notes in Computer Science (LNCS) series which is indexed by Scopus, EI Engineering Index, Thomson Reuters Conference Proceedings Citation Index (included in ISI Web of Science), and several other indexing services. The papers will contain linked references, XML versions and citable DOI numbers.

Springer is able to manage ORCID ID related to the authors and the Proceedings Volumes Editors! Please add the ORCID ID related to each author of your submitted paper!!!
Warning: Fake ICCSA Conference by WASET  
We have noticed the existence of organisations such as WASET that run fake "conferences" in order to make profit with the registration fees, often spoofing the names of real conferences. WASET claims to be organising a conference called ICCSA next year, which is a FAKE ICCSA conference.  
The Real ICCSA conference has been organised by the ICCSA Society since 2003. We do not have any involvement with WASET. Please spread this news to your contacts and communities so that nobody mistakenly participates to such fake conferences.  
WASET is predator publisher. Go to this Wiki Link: https://en.wikipedia.org/wiki/World_Academy_of_Science,_Engineering_and_Technology 
The proceedings of the conference are published in the following volumes: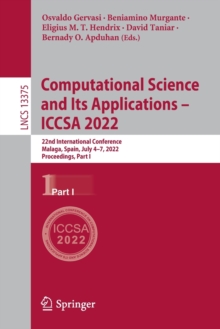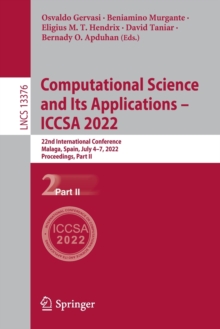 The workshop proceedings of the conference are published in the following volumes: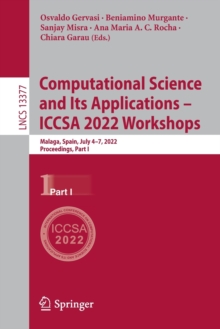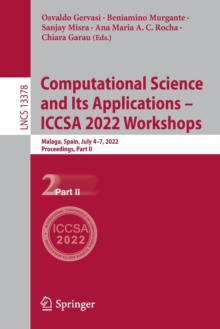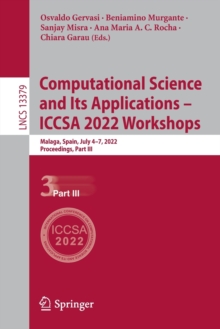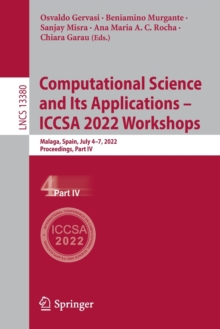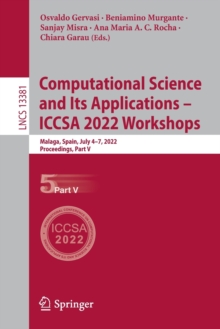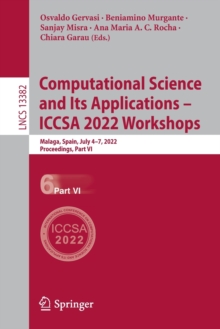 The conference is organized in cooperation with: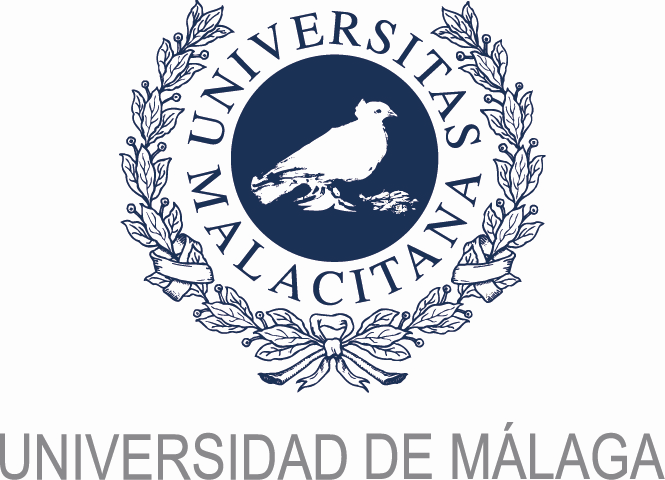 University of Malaga, Spain

This conference is proudly sponsored by:


   Springer International Publishing

         Computers Journal, ISSN: 2073-431X

    Computation Journal, ISSN: 2079-3197


  University of Perugia, Italy

  University of Basilicata, Italy

 Monash University, Australia


     Kyushu Sangyo University, Japan

  University of Minho, Portugal